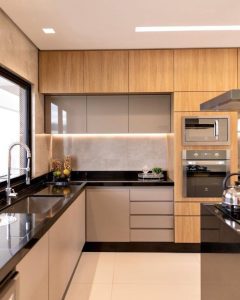 Are you looking to upgrade your kitchen with modern and stylish cabinets? Look no further! In this blog post, we'll explore the top 10 kitchen cabinet ideas that are not only visually appealing but also highly functional. Whether you're aiming for a sleek minimalist design or a bold statement piece, we've got you covered. Get inspired and transform your kitchen into a contemporary masterpiece.
🟠 1.Minimalist Marvels: Streamlined Cabinets for Modern Living
🟠 2.Two-Tone Elegance: Creating Contrast with Colorful Cabinets. Two or three more color combined.
🟠 3. Open Shelving: A Trendy Twist on Traditional Cabinets
🟠 4. Glass-Front Cabinets: Showcasing Style and Organization by glass fixing on front
🟠 5. Handle-less Wonder: Sleek and Seamless Cabinet Designs
🟠 6. Dark and Dramatic: Adding Depth with Black Cabinets
🟠 7. High-Gloss Glamour: Reflective Surfaces for a Modern Touch used HPL sheets or Acrylic anti-scratch
🟠 8. Rustic Charm: Blending Traditional and Contemporary Styles by rustic hpl sheets.
🟠 9. Creative Storage Solutions: Maximizing Space with Innovative Cabinets
🟠 10. Customized Excellence: Tailored Cabinets for Your Unique Kitchen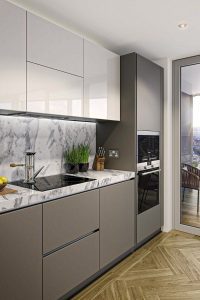 Modern kitchen cabinet use Aluminium Handle Edge with Touch lock Hardware.For Lighting used sensor light or LED strip light.
Conclusion:
Upgrade your kitchen with the latest cabinet trends and elevate the style and functionality of your space. Whether you prefer a minimalist, colorful, or rustic look, these top 10 kitchen cabinet ideas provide inspiration for your modern home. Stay ahead of the design curve and transform your kitchen into a true masterpiece. Explore these stunning cabinet designs and create a space that reflects your personal style and enhances your culinary experience.
We are provide all kinds of Interior Materials
► Any Queries or Share your Dreams:
✆ + 880 1719140157 (WhatsApp)
আমাদের সেবাসমূহের মধ্যে রয়েছে…
🏡 আর্টিফিশিয়াল গার্ডেন/ গাছ/লাইট
🏢 বাসা/অফিস ইন্টেরিয়র
🛒শো রুম ইন্টেরিয়র
🍕রেস্টুরেন্ট ইন্টেরিয়র
🏥 হসপিটাল ইন্টেরিয়র
🛏️ এপার্মেন্ট / ফ্ল্যাট ইন্টেরিয়র
🟠Showroom: 1st Floor, House-69 Amtoli, Mohakhali  Dhaka 1212
||#Interiors_Dot | |#Artificial_Fence || #kitchen_idea ||
|| #Architecture| | #rooftoprestaurant  || Grass।।